Kitty is not using the litter box?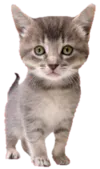 Inappropriate urination and or defecation by a household cat is a common problem. There a quite a few possible reasons why a cat may soil the home. The challenge for cat owners and their veterinarians is to determine which of the causes is presently the problem. The causes can be broken down into two major categories.
The first of these is medical. This would include but is not limited to conditions such as a urinary tract infections, bladder stones, kidney problems, and diabetes. It is always recommended to rule out the medical problems first, as these are the more potentially harmful to the cat.
The second category is behavioral. There are many reasons why a cat may display abnormal elimination due to environmental stresses that may not be obvious to us.
The questionnaire that follows will help us narrow down the possible causes for this troubling condition and help to create the most effective treatment plan. Please fill it out, print it and bring it with you to your cat's examination. This will save you a lot of time while at the veterinary hospital.
---
Virginia Beach Veterinarian | Birdneck Animal Hospital
508 North Birdneck Rd Suite C
Virginia Beach, VA 23451
Phone: (757) 355-5694