POST - OPERATIVE DISCHARGE INSTRUCTIONS
If your have been directed to this page, your pet has most likely had a surgical procedure performed at our animal hospital. While he/she was here, we did our utmost to provide the high quality of care your pet deserves. Just like people that have undergone surgery, pets require special post-operative care. This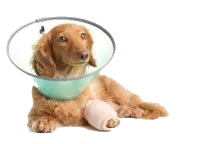 is your responsibility.
If your pet's surgery took place today by our veterinarian, do not offer him/her any food or water until at least one hour after arriving home. At that time, offer one-half of the normal evening meal and a small portion of water. If your pet has no interest in food or vomits, do not be alarmed. Remove the food and water. Offer them again the following morning.
Resting the area that has been operated on is also of primary importance. Pets recovering from abdominal surgery require absolute rest for at least ten days to allow proper tissue healing. Activity should be limited to brief, leashed walks only; no running or jumping is allowed. If your cat has just been neutered or declawed, replace his/her litter with shredded newspaper, and try to prevent jumping for one week after surgery.
Regarding Sutures:
Upon discharge from the hospital, we will have notified you about the type and presence of any sutures. If your pet has sutures, they will need to be removed in 14 days. If your pet does not have any skin sutures, please call us ten days after surgery to let us know how the incision looks.
If your pet has had a dental procedure, his/her gums may be sore. Fed soft food for the first 2-3 days, then switch back to regular food. If teeth were extracted, blood tinged saliva may be present for 24 hours; this is normal.
Please do not allow your pet to lick, chew, or scratch at sutures or incisions: this will cause swelling and may lead to infection. If required, your pet can wear a special collar to control this problem. Bandages, splints and casts must be kept clean and dry. If you pet has a bandaged leg, cover it with a plastic bag when outdoors (but do not use rubber bands!). This bag must be removed when your pet comes inside. If the bandage becomes wet, has a foul smell or the area becomes painful, please bring your pet in to have the bandage changed.
All medications should be given according to label directions. Give the full course of medicine; do not save portions unless directed to do so. Of course, all medications should be kept out of reach of children.
While your pet stays with us, he/she receives the very best care we can give. You are responsible for your pet's care at home. Together we can make your pet's recovery from surgery uneventful. If you have any questions or concerns, please feel free to contact us.
---
Virginia Beach Veterinarian | Birdneck Animal Hospital
508 North Birdneck Rd Suite C
Virginia Beach, VA 23451
Phone: (757) 355-5694