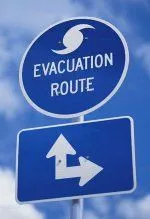 The likelihood that you and your animals will survive an emergency such as a fire or flood, tornado or hurricane, or terrorist attack depends largely on emergency planning done today. Here in Virginia Beach, you should prepare for the unexpected. Whether you decide to stay put in an emergency or evacuate to a safer location, you will need to have emergency plans in place for your pets. Keep in mind that what's best for you is usually what's best for your animals.
Take your pets with you anytime you need to evacuate. Even a short-term evacuation like a gas leak could turn into a large scale disaster that keeps you from returning home for days.
Plan in advance exactly how you'll evacuate your family and animals.
Make sure all animals have identification collars and tags.
Prepare a first aid kit for you, your family, and your animals, including food and water (one gallon per person or pet per day for three days), and any prescription medications. For a more comprehensive list of recommended pet first aid supplies, see our pet emergencies page.
Gather important papers: A vaccination record from your veterinarian at Birdneck Animal Hospital will provide the essential information including pet's:
name
sex
birth date
color
species
breed
age
rabies tag number
microchip identification number
weight
vaccine expiration dates
most recent medical history
Gather a list of boarding facilities and pet-friendly hotels within a 50-mile radius.
Small animal "go kit" including bedding, bowls, grooming tools, toys, litterbox, kitty litter, trash bags, paper towels, leashes, collars, crates, carriers, can opener, muzzle, flea and tick preventative, heartworm preventative.